Dr. Thomas Axworthy appointed Secretary-General of the InterAction Council
May. 28 / 2011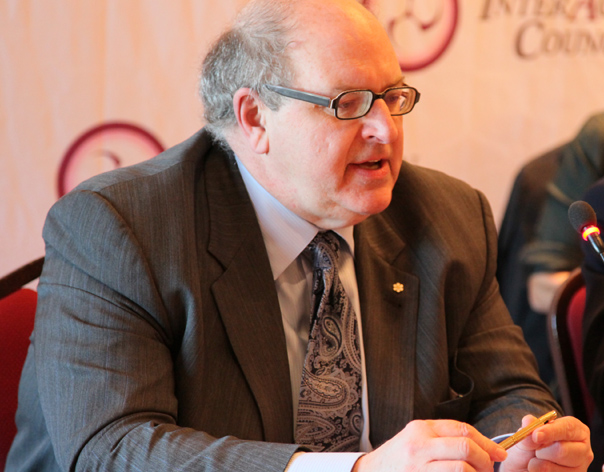 Québec City—The InterAction Council (of Former Heads of State and Government) is pleased to announce that Dr. Thomas Axworthy, former Principal Secretary to late Prime Minister Pierre Trudeau, was appointed its Secretary-General at a meeting of the Council's Executive Committee in Québec City, Canada, on Saturday. Dr. Axworthy has served as an Associate Member of the Council since 2008 and a special advisor since 1996. The InterAction Council is holding its 29th Annual Plenary Meeting in Québec City this week with more than 20 former heads of state and government in attendance.
"I first became active with the Council in 1996 when I helped organize the 14th Annual Plenary Meeting in Vancouver for my former boss Prime Minister Trudeau, who joined in 1985 as one of its earliest members," said Dr. Axworthy. "Over the years, I have had the honour of contributing to the drafting of the Universal Declaration of Human Responsibilities—one of the Council's most widely known and powerful documents—and supporting the Council's work on human rights and responsibilities, peace and security and world economic revitalization. I look forward to continuing to serve the Council in this new role under the Co-Chairmanship of Jean Chrétien and Dr. Franz Vranitzky."
Thomas Axworthy assumes the position from Isamu Miyazaki, former Japanese Minister of Economic Planning, who served as Secretary-General from 1989 until now.
Thomas S. Axworthy is a distinguished senior fellow at the Munk School of Global Affairs, University of Toronto. Previously, he served as Senior Policy Advisor and Principal Secretary to Prime Minister Pierre Trudeau. In 1984, Dr. Axworthy joined Harvard University as a Fellow of the Institute of Politics at the Kennedy School of Government. He was subsequently appointed visiting Mackenzie King Chair of Canadian Studies. In 1999, Dr. Axworthy helped to create the Historica Foundation to improve the teaching and learning of Canadian history, becoming its Executive Director until 2005. To recognize his achievements in heritage education (he initiated the Heritage Minutes), civics, and citizenship, Dr. Axworthy was invested as an Officer of the Order of Canada (2002). In 2003, he became Chair of the Centre for the Study of Democracy, School of Policy Studies, Queen's University, pursuing the themes of expanded human rights and responsibilities, democratic reform, Canadian-American relations, and modern liberalism that characterized his research, teaching and advocacy career. In 2009, he became President and CEO of the Walter & Duncan Gordon Foundation.
Dr. Axworthy has edited several publications, including Towards a Just Society: The Trudeau Years, with the most recent being Bridging the Divide – papers for the Interaction Council, (June 2008). He was awarded an honorary LLD from Wilfrid Laurier University (2003) and the Public Affairs Association Award of Distinction on November 26th, 2008 by the Public Affairs Association of Canada.
Established in 1983, the InterAction Council of Former Heads of State and Government is an international organization whose objective is to address long-term, global issues facing humankind. Co-Chaired by the Right Honourable Jean Chrétien (Prime Minister of Canada, 1993-2003) and Dr. Franz Vranitzky (Chancellor of Austria, 1986-1997), the Council's membership is comprised of more than thirty former heads of state who jointly develop proposals for action and submit them directly to national and international decision-makers. In April 2010, the Council held its 28th Annual Meeting in Hiroshima, Japan on the theme of "Abolishing Nuclear Weapons."
- 30 -
For further information, please visit www.interactioncouncil.org or contact the Secretariat at the following coordinates:
InterAction Council
3-16-13 Roppongi, Minato-ku,
106-0032 Japan           
Tel: 813-5549-2950
Fax: 813-5549-2955
E-mail: interact@vega.ocn.ne.jp